The founders at B Walker Ranch were thrilled to be interviewed by the Contra Costa Times.  That excitement, however, paled in comparison to the way they felt when they learned that the papers review of the non-profit was the feature article on the front page!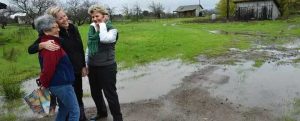 Brief excerpt: "The ranch, a nonprofit, would receive enough state funding to cover its day-to-day operations, said Mitchell, noting that doesn't include money the ranch could make from what it produces. B Walker Ranch's goal is to be self-sustaining once the ranch is built. All that is needed is the necessary capital to build/remodel and then the licensing process with the state and regional agencies will begin.
B Walker Ranch is envisioned as a model for similar facilities. The women also plan to invite colleges to use the ranch as an "educational training ground" for autism-related issues, Stanley said.
For now, 26-year-old Ben Walker Stanley, the ranch's namesake, looks forward to feeding animals and riding tractors. Living in Brentwood, Stanley spends most of his days helping to deliver food for the Meals on Wheels program."
Read the full article here:
Solano County ranch would give those with autism a purpose, a place