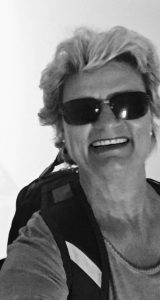 Pamela Hale Mitchell is the mother of three children and the sister of a special needs brother, who was born in 1960.  She has seen and experienced first-hand the difficult challenges families face when living and raising a loved one with special needs. The lack of social integration and acceptance for the family members and the individual challenges these families face has made this cause personal to Pam.  Her unique background gives special insight to the need of bringing joy and purpose into the lives of those with Autism and special needs.
Pamela has been active in her community through her work and personal interests which include; backpacking, biking, adventure, music and art development.  She has a strong interest in promoting the importance of exercise and fun for the population of special needs adults.
Since 1985, Pamela has been an active member of the National Association of Realtors at Windermere Diablo Realty in Walnut Creek, CA. She attended San Diego State University. She holds certification from the Indoor Air Quality (IAQ) Council, a non-profit organization promoting awareness and education of indoor air quality and strategies for conducting Microbial IAQ investigations.  Pamela is a firm believer in the need to provide a toxin free environment for B Walker Ranch.
Pamela worked as an artist for years, owning and operating her own business and gallery in Kennebunkport, Maine and Carmel Valley, CA. She specialized in hand sculpture and brings forth a knowledge about clay from the initial hands-on creation to the finished, kiln-fired product.  The use of clay as a modality is a fine addition to the Art Therapy Program at B Walker Ranch.
Pamela also worked as a food and beverage event planner at Highlands Inn, Carmel CA and the Four Seasons Clift Hotel, San Francisco, CA in corporate and private gala events.
She worked with Step Up for Kids, a nonprofit organization based in Lafayette, CA which "marries" underprivileged children in Contra Costa County to a local physician for the child's medical care, from birth to 18 years of age at no cost to the families.